Subaru of North Orlando proudly partners with Southeastern Guide Dogs. This charity breeds, trains, and homes highly-skilled guide and service dogs with veterans, grieving family members of service men and women who have lost their lives in the line of duty, as well as the visually impaired. Learn more about our partnership with Southeastern Guide Dogs and how you get involved! 
What Does Southeastern Guide Dogs Do?
Southeastern Guide Dogs conducts research into breeding the dogs with the best temperaments for guiding the visually impaired and comforting veterans in Sanford and Deltona. Your dollars go to support this vital research, and so much more. 
Southeastern Guide Dogs also trains each of its guide and service dogs for two years. Once a dog is fully trained, it's carefully homed with the owner. In fact, their clients attend several weeks of training, so they can build a bond with the right dog and learn how to make use of the skills their service and guide animals can provide.
How Does Subaru of North Orlando Help?
Subaru North Orlando has been fundraising for Southeastern Guide dogs for 8 years, as of 2023. On May 2nd, 2023, Ed Moran, Danny Cannon, Dave Mulder, Joe Anglada, Dimitri Charalambakis, Deidre Kristinsson, Linda Cannon, Matt Adkins, Will Kuhlman of Myers Auto Group Subaru South Tampa, Subaru Lakeland and Subaru North Orlando joined Andy Kramer, Vice President of Philanthropy for Southeastern Guide Dogs, Francis Molinaro, Director Philanthropy and area SEGD Puppy Raisers to accept a donation check for $89,395.
Over the last 13 years, through the Subaru Share the Love Event, Subaru of America Inc. and its participating retailers have donated more than $200 million to charity, with customers choosing between four national charities and over 1,610 hometown charities. Subaru South Tampa, Subaru North Orlando, and Subaru Lakeland have donated nearly $500,000 combined over the last few years alone.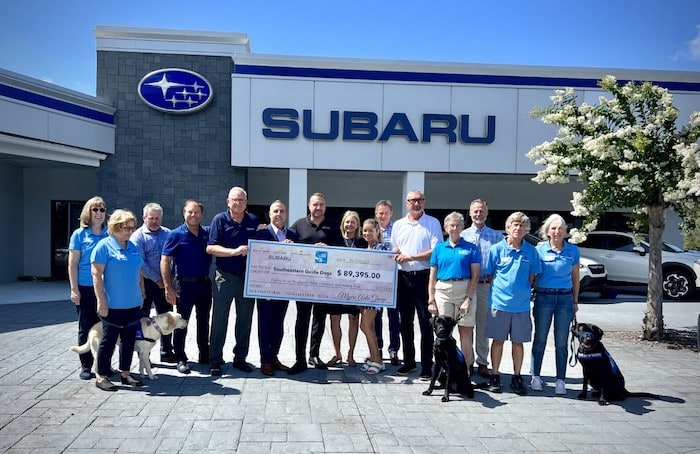 How Else Can You Get Involved?
You can donate to Southeastern Guide Dogs directly or stop by the showroom at Subaru North Orlando and put a donation in the bowl for our "Superheroes on Parade" fundraiser. Our address is 4113 S Orlando Dr. Sanford, FL 32773.
Have Questions About How to Get Involved? 
If you have any further questions about how to make a donation, how to volunteer at Southeastern Guide Dogs, or other ways Subaru North Orlando gets involved in our community, like our sponsorship of the Seminole County Public Schools Teacher of the Year Award, you can call Subaru North Orlando. Our phone number is 877-488-2397, and you can also contact us online. We look forward to working with you on supporting this vital cause! 
Make an Inquiry
* Indicates a required field